Patsy Zawistoski is an innovative teacher and lecturer, teaching throughout the USA and Canada, in Sydney, Australia, and in New Zealand, including a 10-week teaching tour in 2013. For 40 years, Patsy has created spinning and weaving classes, presented at guilds and conferences, large and small, following her achievement of the Handweavers Guild of America's Certificate of Excellence in Handspinning (COE) plus a Master's level for "Spinning Novelty Yarns for Use as Warp". She loves all the fibers and maintains a wide focus while spinning multiple-ply yarns for variety and excitement.
Patsy's goals include teaching students how the mechanics of yarn structure affect their yarns, using clear concise explanations; spinning for weaving – specifically warp; and the wide range of commercially available spinning fibers. With her BA in Education, she structures her classes with extensive booklets and sample worksheets, recognizing the power of sampling.
Patsy has six commercial, full-length teaching videos published by Victorian Video and Interweave Press. Patsy also writes for various national and international magazines. During the Covid years, she added virtual instruction, focusing on teaching personalized, close-up techniques as her husband provided the camera work for her live classes.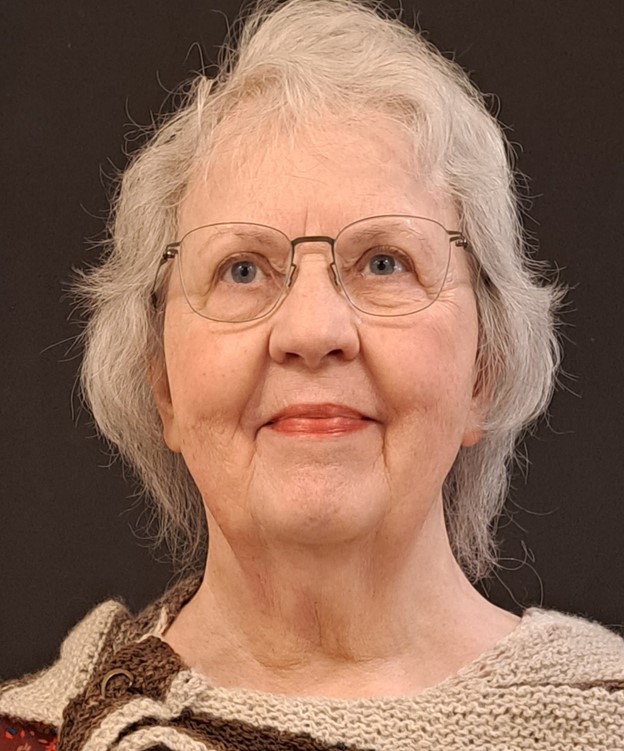 Guild Meeting/Program:  Lavish Luxury Fibers and Animals
Spinners, weavers, and all textile enthusiasts enjoy the luxury of yarns and fibers from a wide variety of animals from around the world. Understanding the animals, their fibers, and the process of making the yarns will help you make the most of your investments. These animal fibers will include camelid fibers – llama, alpaca, and camel down; goat fibers – kid mohair, pygora, and cashmere; and other fibers – angora bunny, bison, Qiviut, and yak.
Date/Time: April 13, 2024 10:30 AM (following Guild meeting)
Location: St. James Episcopal Church, 11815 Seven Locks Rd, Potomac, MD 20854

Mini Workshop: Adding That Special Twist – Spinning for Knitting & Crochet
Many spinners are wary of using their yarns when knitting and crocheting. There are ways to guarantee success as you learn about the requirements of knitting & crocheting yarns. Matching the density of the yarn is the biggest challenge. Patsy will talk about the various properties of yarn and how they can be manipulated when hand spun and used for knitting. Special emphasis will be spent on understanding and matching twist and grist, as spinning that very special yarn for that very special reason is well worth the effort. This workshop is all about improving your spinning skills to create new yarn sizes. Learn to identify and control grist and twist by visual and tactile comparison.
Date/Time: April 13, 2024 1:00 to 4:00 PM
Location: St. James Episcopal Church, 11815 Seven Locks Rd, Potomac, MD 20854
Mini Workshop Fee: Members: $35.00 Non-Members: $50.00
Student's Materials Fee: $7
Student Supply List:
Spinning wheel or hand spindles; handcards, and hand combs; scissors; paper and pen; single hole punch (can be shared)
Click here to print supply list.
Extended Workshop: Spinning Silk and Downy Fibers: A Match Made in Heaven
It's time to take control of your daunting precious fibers. Spinning expensive, downy undercoat fibers can be downright daring after paying for that little bag. Consider adding the luxurious touch of various silks using yarn styles that make the most of both types of fiber. Learn which combinations, blends, or yarn styles create the perfect yarn or collection of yarns for a special handmade project. Fibers covered include cashmere and pygora from goats, yak, angora bunny, New Zealand possum, and camel down, plus a variety of silks including tussah, bombyx, muga, eri, peduncle, and sari. Properly tune-up your wheel, improve your carding and preparation techniques, enhance drafting practices, and understand various plying styles. Let's turn daring into inspiring ideas and projects.
Date/Time: April 14 – 16, 2024 10:00 AM to 4:00 PM
Location: Garrett Park Town Hall
Workshop Fee: Members: $240.00 Non-Members: $330.00
Student's Materials Fee: $50 for 24-page booklet, worksheets, all fibers to work with in class.
Student Supply List:
A good working wheel, treadle, or e-wheel (scotch brake or double drive recommended)
Lazy Kate and 3 bobbins
Hand cards (Wool cards are fine; if you have cotton cards bring them.)
Scissors
Pen and paper for notetaking
Single hole punch or tape for attaching sample yarns and fibers
Small hand towel
Also have oil, screwdriver, leader cord, extension cord and other tools for your wheel, in case they are needed.
Optional – ball winder, small niddy-noddy, 3-ring binder, yarn tags, knitting needles or crochet hooks suitable for fine yarn