Free Basket Weaving Mini-Workshop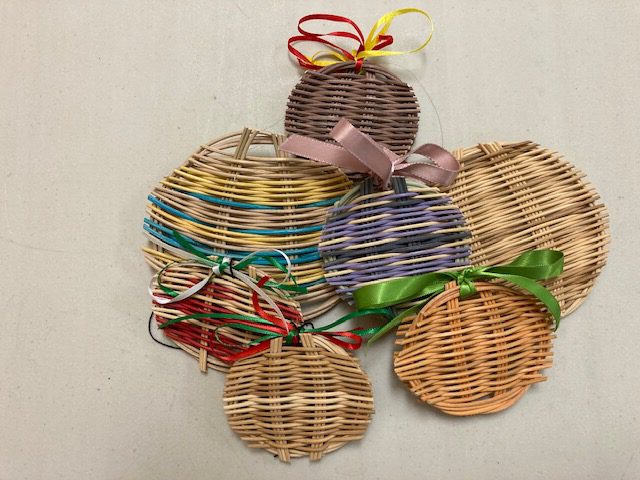 Free Basket Weaving Mini Workshop:
Ever wanted to try your hand at basket weaving with reed? Well, come to our free mini-workshop following the January meeting and give it a try. The Basket Study Group will show you how to make coasters and ornaments for the MAFA Conference goody bags. All the MAFA member guilds contribute items to be given to conference attendees. Come help make ours — and have some fun with your guildmates in the process.
We'll be using the "tension trivet" technique, which you can use in the future to make all sizes trivets, using different sizes of weaving materials. Check out this You-Tube video to see how it's done: Beverly Ashton Vickers video
Date/Time: January 14, 2023 1:00 – 4:00 PM
Location: St. James Episcopal Church, 11815 Seven Locks Rd, Potomac, MD 20854
What to bring:
• small bowl or bucket, (quart-size is fine)
• kitchen or handtowel,
• tape measure,
• pair of scissors/kitchen shears that would cut a stalk of rosemary,
• 4 clip-style clothespins or other small clips.
If you don't have any of these—Don't worry, we'll have some to share.
The Mid-Atlantic Fiber Association's conference for fiber guild members throughout the Mid-Atlantic region will take place June 22 – 25, 2023 in Millersville, Pennsylvania. Since Potomac Fiber is a member of MAFA, all our guild members get to attend at the member-rate. See more information about all the workshops and conference events at https://mafafiber.org/conferences/mafa2023/