Terri first started visiting the island of Nantucket in the 1980s. She remembers seeing a Nantucket Lightship basket in one of the gift stores on Main Street and asked to see it. It was $500 and her first thought was "I'll never be able to afford one of those!" Moving forward, Terri herself would be selling her baskets on Main Street for $2,500-$5,000.
Terri holds a BS in engineering. Her first "real" job was working at NASA in Greenbelt. She was always curious about construction and how things work.
The cottage industry of the manufacture of Nantucket baskets back in the early days was very secretive. Terri managed to take many, many workshops with master weavers like Dick and Donna Cifranic, Karol Lindquist and Alan Reed. She made her first basket in 1996.
After taking a one-on-one class with Alan Reed, and recently having taken early retirement in 2002, she was asked to join Alan's shop and have her spot at the bench between renowned basket makers Nap Plank and Alan Reed. She became a master craftsman herself and was juried and accepted into the Nantucket Basket Makers and Merchants Association. Terri was also heavily involved with the Nantucket Lightship Basket Museum where she was on the Advisory board, historian, docent, lecturer, and demonstrator. She would also collaborate on each year's exhibits.
Terri is a collector of Nantucket baskets, does repairs and restorations, and taught workshops in the barn on her Maryland property. Terri considers herself a traditional Nantucket basket maker but makes contemporary baskets as well. She purchased her own home on Nantucket in 2002.
Besides making baskets, Terri enjoys weaving (she owns 6 looms), spinning (she owns 5 spinning wheels), knitting (there is fiber hidden in every nook and cranny), and rescuing vintage sewing machines and getting them to make perfect stitches again (she owns 27 sewing machines.)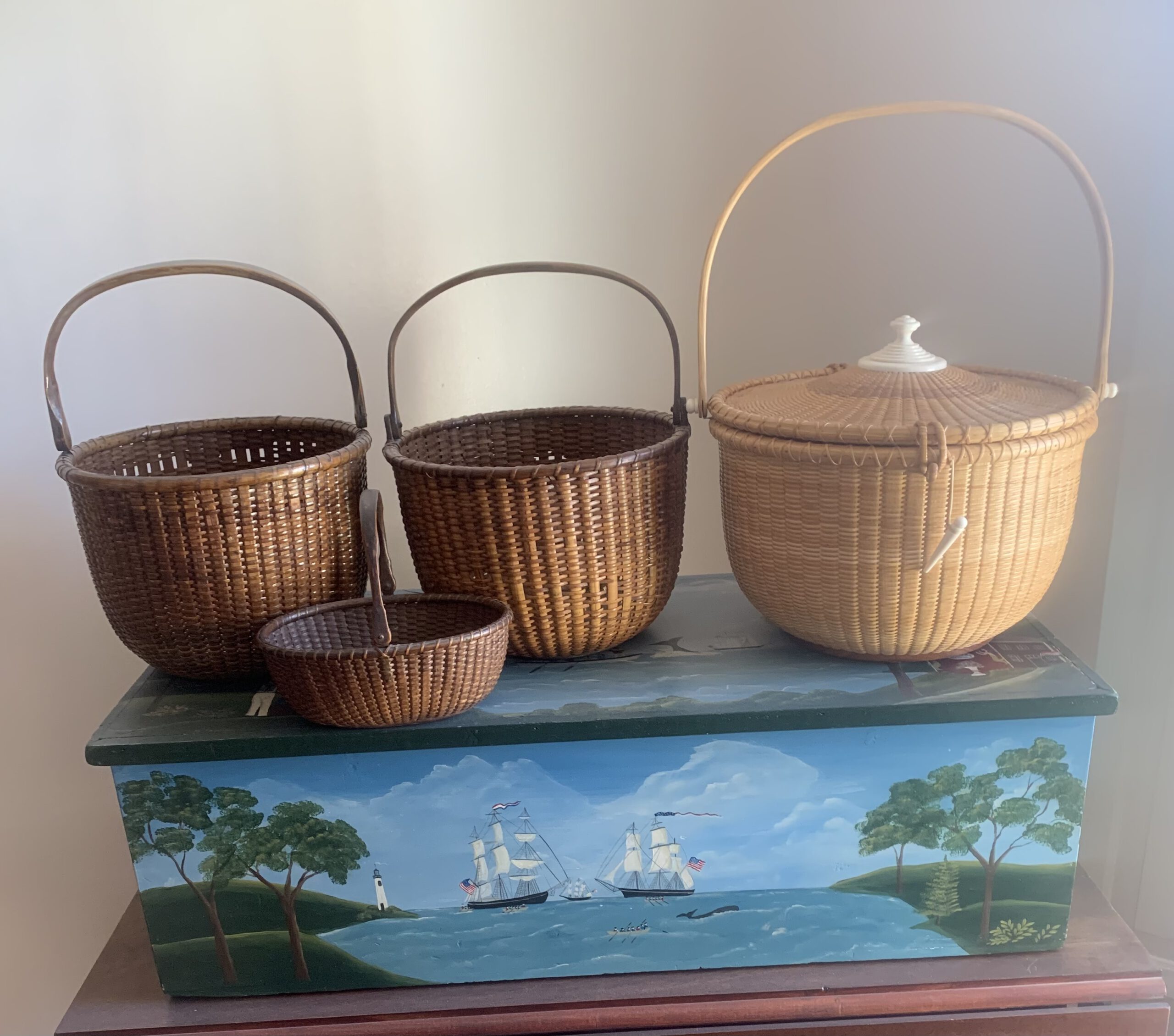 Guild Meeting/Program: Nantucket Lighthouse Baskets
Terri will be discussing the history of the little Island 30 miles out at sea that was once the whaling capital of the world and the history of lightships (the first was placed on mooring in the Chesapeake Bay). She'll describe how these exquisite baskets evolved from the Nantucket basket to the famous worldwide-recognized baskets now known as Nantucket Lightship baskets. She will show you the anatomy of a basket, how they are made, materials used, and will bring examples. She will show the difference between traditional and contemporary baskets, adornments, clues to dating a basket and who made them, and how to spot fakes. Terri will bring lots of examples from her personal collection.

Date/Time: December 10, 2022 10:30 AM (following Guild meeting)
Location: St. James Episcopal Church, 11815 Seven Locks Rd, Potomac, MD 20854