Barbara J. Walker is an avid ply-splitter, weaver, braider, and knotter who finds interlacements of all sorts fascinating. She holds HGA's master level Certificate of Excellence in Handweaving, is a juried member of Northwest Designer Craftartists, and her award-winning work has been exhibited internationally. Ply-splitters and weavers throughout the US, UK, and Japan have enjoyed her engaging and innovative workshops. She is the author of Supplementary Warp Patterning: Turned Drafts, Embellishments & Motifs and Ply-Splitting from Drawdowns: Interpreting Weave Structures in Ply-Split Braiding, as well as numerous articles in major fiber publications. Barbara's home studio overlooks the Willamette Valley in Salem, Oregon.
Guild Meeting/Program:  Accidental Fiber Artist
In this light-hearted program, Barbara presents her journey from national park ranger to circuit rider teacher of weaving and ply-split braiding. She shows her earliest fiber art and progresses to her present award-winning work, with a lot of interesting and humorous stops along the way.
Date/Time: March 9, 2024 10:30 AM (following Guild meeting)
Location: St. James Episcopal Church, 11815 Seven Locks Rd, Potomac, MD 20854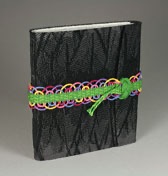 Mini Workshop: Putting It All Together: Mixed Media and Collaborations
Go beyond your comfort zone by combining one or more of the fiber techniques you do into one sensational piece and learn ways to approach the rewarding experience of collaborating with other artists, no matter the media and no matter if you live close to each other or a great distance apart. Exercises include developing ideas for a mixed media piece and brainstorming collaborative pieces with another person. For those who do more than one fiber technique.
Date/Time: March 9, 2024 1:00 to 4:00 PM
Location: St. James Episcopal Church, 11815 Seven Locks Rd, Potomac, MD 20854
Mini Workshop Fee: Members: $35.00 Non-Members: $50.00
Student Supply List:
Several colored pencils; paper; examples (fairly small in size) of participants' mixed media or collaborative work, if any.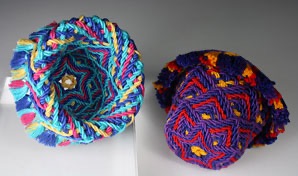 Extended Workshop: Ply-Splitting: Braids, Baskets & Beyond
Ply-split braiding is a technique found in northwest India. Its traditional use is for making girths, sturdy straps, bags, and other accessories for camels. Ply-splitting captivates weavers, braiders, basket makers and other fiber enthusiasts alike. Instead of elements moving over and under each other, in ply-splitting four–ply cords move through each other. In this workshop you will learn the basics of ply-split braiding with an eye toward creating one-of-a-kind necklaces. Then go beyond traditional ply-split bands and learn how to make a basic mat which can be the foundation for three-dimensional forms such as baskets. See several contemporary adaptations, and explore ways to incorporate embellishments, make closures, and finish ends.
Date/Time: March 10 – 12, 2024 12:00 PM to 4:00 PM
Location: Leisure World
Workshop Fee: Members: $240.00 Non-Members: $330.00
Student's Materials Fee: $75 (includes kit with cords and handouts for all three days)
Student Supply List:
Students will have to order a gripfid (the necessary tool) from one of two sources:
https://www.louisefrench.com/sales/sales.html#Gripfids their medium, 4.5 mm
http://www.lindahendrickson.com/ needle size 7